Advertisements
As several wildfires rage across California, the Ronald Reagan Presidential Library is under threat from a new blaze near Los Angeles.
The region is under a rare "extreme red-flag warning" from weather officials as gusts approach hurricane-level speeds, over 74mph (119km/h).
There is concern that the winds will also fan the nearby Getty Fire, which has scorched 745 acres.
Wildfires across California have led to mass evacuations and power cuts.
The latest fire broke out near the Ronald Reagan Presidential Library in Simi Valley, about 40 miles north-west of Los Angeles. The blaze, dubbed the Easy Fire, has burned 1,300 acres so far.

Some library staff, including the executive director, are still on the property, which is now surrounded by the fire, local media report.
Hundreds of firefighters are on the scene, and they have asked staff to shelter in place.
The extreme weather alert covers Los Angeles, Ventura and San Bernardino counties.
Winds are expected to pick up early on Wednesday and continue into Thursday, with forecasters warning that they could hit their highest speeds of the season.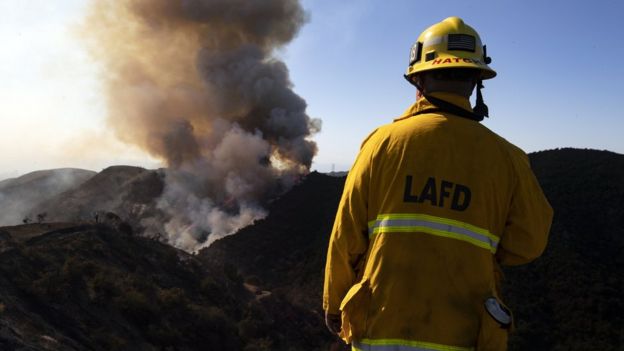 "This Santa Ana wind event will likely be the strongest we have seen so far this season," the weather service said.
"These strong winds… will likely bring very critical fire weather conditions, making this an extreme red-flag warning event."
Original Content from respected publisher hereVIEW WEBSITE)