Advertisements
The fact that Nirvana struck a chord not only with Generation X, but with a large swathe of blue-collar white, male America – men with despair and alienation of their own – was just one of dozens of problems Kurt Cobain had with success. For a champion of the punk ethic of anti-commercialism, multi-million record sales were a confusion. And intrusion by the press into his private life was insupportable for a man who had been a loner since childhood. "It was so fast and explosive," he said once, "I didn't know how to deal with it. If there was a rock star course, I would have liked to take it. It might have helped me."
The life that suddenly became possible for Kurt Cobain was riddled with contradiction. The layabout rock-star now lived in a Seattle suburb with a little girl, a working wife, and a home in the country. He was feeding a heroin habit that was draining $ 400 a day (the largest daily dose dispensed by his cash-machine), driving to his dealer in a Volvo.
You could hear the pop junkie and the doting dad fighting it out in the music. On Nirvana records, din and harmony alternate within a single song, sometimes at the same moment. Last year Cobain clashed with the producer of In Utero, who wanted a harder, less commercial sound for the album. Cobain triumphed, and you can hear the melodies, many of them Squeeze- or even Beatles-esque, struggling to break through the sheet metal on top. He promised that future work would be more tuneful, acoustic – even ethereal.
Hippies, punks and every other teen movement in history would have taken this Volvo-driven volte-face as a sell-out. But not the twentysomethings, the children of Reagan and Thatcher who have shed politics and who came of age in the consumerist 1980s. X-ers don't have a problem with the system – they just can't find their place in it.
They cheered as Cobain seemed to find his. And this is the strangest irony of all. Sceptics have rightly debunked the Generation X idea for failing to account for all those in their mid-20s who are not working in McJobs, but married and high-achieving. These Xuppies probably outnumber the slackers five to one – yet the bizarre fortune of Kurt Cobain was that, by his success, he reflected them, too.
That's why stock analysts listened to Nirvana on their car CDs. His disenchantment with success-without-meaning – singing, "I do not want what I have got" – spoke to them, too. Douglas Coupland's novel, which dumped the Generation X moniker into the language, coined another new term: Successophobia. He defined it as "The fear that if one is successful, then one's personal needs will be forgotten".
Cobain had a bad case of successophobia. "I just hope," he said in January, "that I don't become so blissful I become boring." One of his best chorus lines was, "I miss the comfort of being sad."
He coped by mixing his blood with the soothing nectar of heroin, but its healing power could not last. He had wanted to call his last album, I Hate Myself And I Want To Die. He decided not to because, he said, no one would realise he was joking.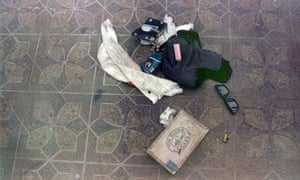 Looking at the house on Lake Washington Boulevard, with its space, its quiet, its pure aroma, you feel about Kurt Cobain the way nations around the world often feel about America: why are those who have so much so desperately unhappy? Kurt Cobain's anguish might have been just as poisonous, just as lethal had it remained anonymous. He took his own life for private reasons – it has been reported that his family had a history of suicide – even if those reasons were magnified by the lens of fame. And, in the end, the greatest impact of his death will be private, too.
It is now late afternoon, and a black limousine has turned into the driveway. A pale Courtney Love steps out, her platinum hair looking lank, hugging herself in a plain, grey tunic. She clutches a copy of Newsweek, the one which shows a staring picture of her dead husband.
She heads immediately for the garage-apartment, getting closer to the spot where Kurt Cobain's body lay for three days before it was discovered. She doesn't see the nanny coming out to greet her, cradling the couple's newly-bereaved baby daughter. For Courtney Love is looking the other way, shouting simply, "Where are you?"
As the climate crisis escalates…
… the Guardian will not stay quiet. This is our pledge: we will continue to give global heating, wildlife extinction and pollution the urgent attention and prominence they demand. The Guardian recognises the climate emergency as the defining issue of our times.
You've read 13 Guardian articles in the last month – made possible by our choice to keep Guardian journalism open to all. We do not have a paywall because we believe everyone deserves access to factual information, regardless of where they live or what they can afford.
Our independence means we are free to investigate and challenge inaction by those in power. We will inform our readers about threats to the environment based on scientific facts, not driven by commercial or political interests. And we have made several important changes to our style guide to ensure the language we use accurately reflects the environmental catastrophe.
The Guardian believes that the problems we face on the climate crisis are systemic and that fundamental societal change is needed. We will keep reporting on the efforts of individuals and communities around the world who are fearlessly taking a stand for future generations and the preservation of human life on earth. We want their stories to inspire hope. We will also report back on our own progress as an organisation, as we take important steps to address our impact on the environment.
We hope you will consider supporting the Guardian's open, independent reporting today. Every contribution from our readers, however big or small, is so valuable
Original Content from respected publisher hereVIEW WEBSITE)